Hotels within a short drive, (or even walk), of Club-Atlantis.
For further information on these hotels and other accommodation in Stoke on Trent, visit the Tourism Website
George Hotel
Just one minute's walk from the club, the George could hardly be more convenient.
Three star hotel recently refurbished, and with a wealth of local history. Perfect for local restaurants, shopping, and the Club of course.
Tel: 01782 577 544 Book Online
Directions to the Club... Come out of the front doors and cross the main road. Walk up the street about 150 yards and take the left turning into William Clowes Street. (If you come to Woolworths, you've just passed it).
Stoke Travelodge
About 10 mins from the Club. Close to M6 Jn. 16. Near Freeport shopping centre.
Tel: 01782 777 000 --- Travelodge Website
Other Local Hotels
| | | |
| --- | --- | --- |
| Hotel | Distance | Telephone |
| The George Hotel | 1 min on foot. | 01782 577 544 |
| The Sneyd Arms | 5 mins by car. | 01782 826 722 |
| Haydon House Hotel | 5 mins by car. | 01782 711 311 |
| Victoria Hotel | 5 mins by car. | 01782 835 964 |
Please check prices and details with hotel when making your reservation. Atlantis has NO connection with any of the above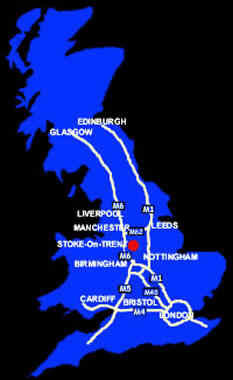 Club Atlantis is in Burslem, Stoke On Trent. We are easy to reach from Junction 15 or 16 of the M6, or using the A34, A50 or other routes.

We have our own car park and there's plenty of free off-road parking is available close by, in areas covered extensively by security cameras.
Our Address is : Atlantis Club, 10 William Clowes Street, Burslem, Stoke On Trent, ST6 3AP.
Telephone : 07971 185 999

1. Locate the stretch of the A500 that runs between Jn. 15 & Jn. 16 of the M6.
2. Leave the A500 at the A527 turnoff, in the direction of Tunstall, Burslem, Hanley.
3. At the top of the slip road, there's a large roundabout. Take the turning to Tunstall, Burslem, Hanley.
4.Continue on this road until the small roundabout, (with a stone cross in the centre).
5. Bear right into Newcastle Street (B5051).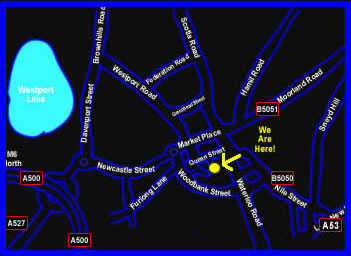 (Not to scale)
6. Continue to the next roundabout, at which you keep left.
7. Immediately after the pelican crossing, turn Right into St Johns Square, where there is some overflow parking available.
8. At the bottom of St Johns Square is a Woolworths shop.
9. When facing the Woolworths, Atlantis-Club is in the side street to your left.
Free car parking is available through the gates immediately opposite the club. Our car park is locked outside club hours.